Each year, roadways suffer over 5.8 million crashes — and 21% of those are weather related, according to the Federal Highway Administration (FHWA). If your community has a horizontal curve with limited visibility or an intersection that's prone to collision, it can be frustrating to see the same issue resurface, especially in the face of adverse weather. When conditions deteriorate quick and unexpectedly, motorists often end up at the whim of mother nature's unpredictable behavior. While it's not always possible to accurately predict when extreme weather will hit, the proper warning signage on roadways can help when driving in fog, rain, snow and through other weather hazards, ensuring communities stay safe and informed of what's ahead.
Depending on the climate where you live, your region's traffic safety needs may vary. From harsh winters in the Midwest to hurricane season in the southeast, weather often impacts mobility. Here are four common weather scenarios and our hand-picked solutions to each problem — plus one solution that works for all adverse weather scenarios.
Ruggedized Signs for Harsh Winters
Traffic signs endure a lot, from high winds and hail to snowfall and debris. Extreme weather can cause damage over time. Falling rocks can knock signs over or split them in half. Snowplows can inflict damage while clearing roadways — all of which can result in bent or broken signs that need to be replaced prematurely. Horizontal curves in particular pose a greater threat to drivers and signs alike, especially in adverse driving conditions. Over 25% of fatal crashes are associated with a horizontal curve, with most of these crashes being single vehicle roadway departures that collide with fixed objects, including roadway signs (FHWA).
Dynamic Curve Warning Systems help reduce accidents on curves with LED-enhanced chevron symbols, designed to catch motorists' attention, encourage them to reduce their speed and guide them through the curve. To increase winter driving safety and the sign's lifespan, horizontal curve solutions are often ruggedized. Made with three layers, ruggedized signs have increased resistance against weather, hazardous conditions and other wear and tear. Any traffic sign can be ruggedized — whether standard or LED-enhanced — to withstand extreme weather conditions.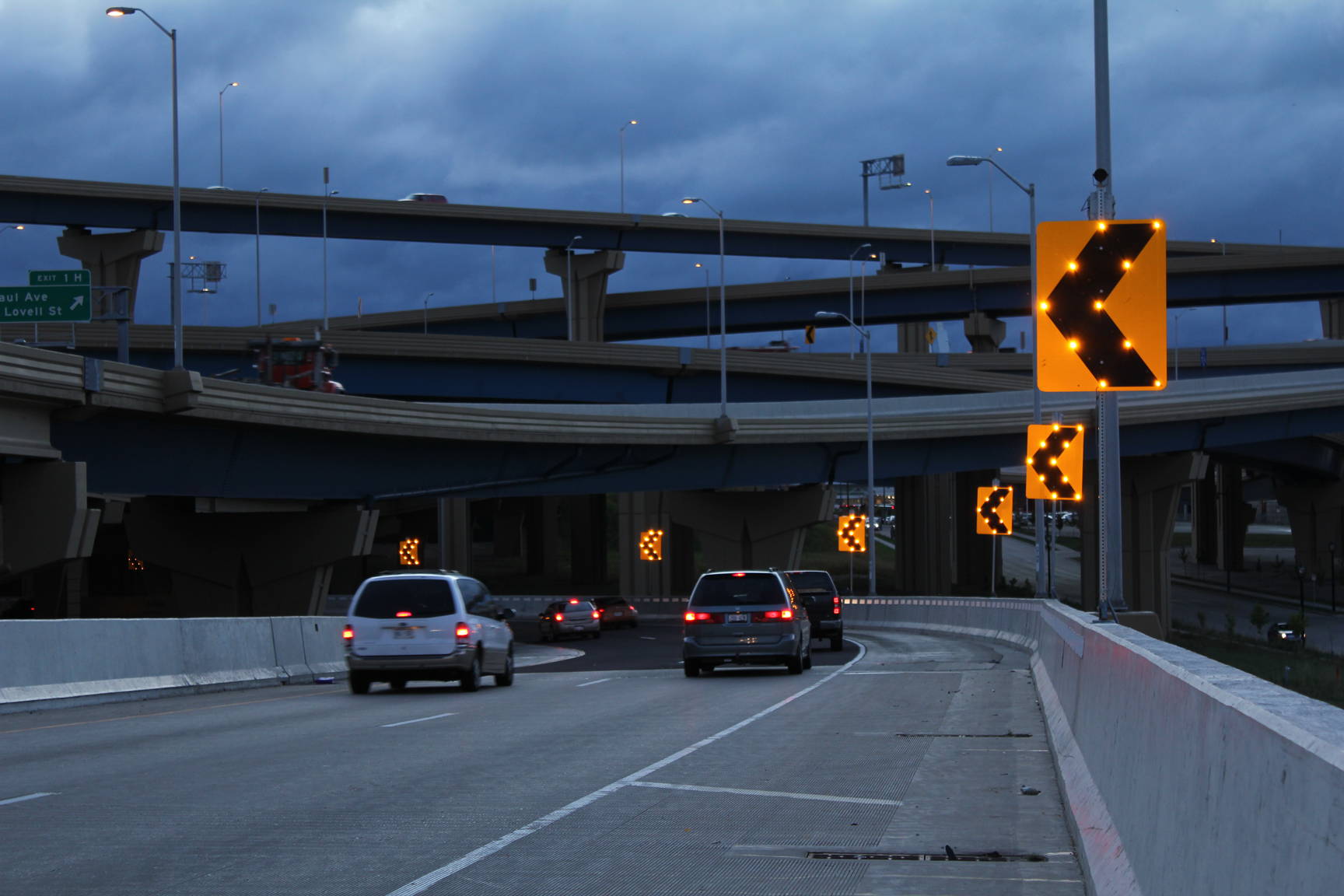 Icy Road Warning for Slippery Roads
In colder climates, the winter season can make for treacherous roadway travel. 24% of weather-related crashes happen on snowy, slushy or icy pavement; 15% happen during snowfall or sleet (FHWA). Even if your town is quick to deploy snowplows and salt trucks, some intersections or curves may be prone to slippery roads more than others.
An Icy Road Warning System informs drivers of slippery roads by detecting when conditions are cold and humid enough for ice to form. Icy Road Warning Systems can include LED-enhanced warning alerts that are programmed to flash during icy conditions, which alerts motorists of icy roads and encourages them to slow down. These systems are customizable for your community: request sign verbiage like "SLIPPERY ROAD" or "WATCH FOR ICY ROAD" and choose a ruggedized sign option to withstand extreme conditions.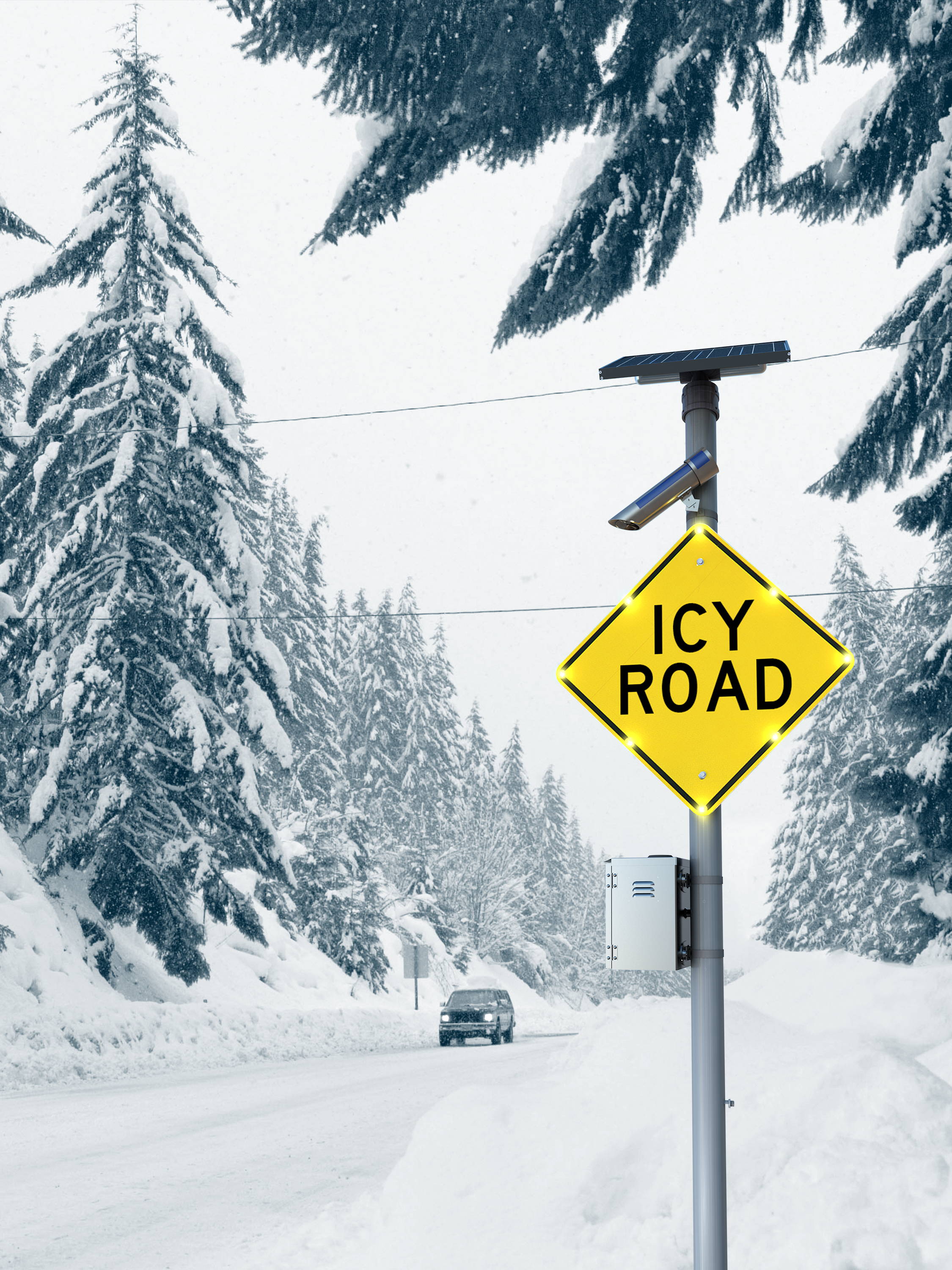 High Water Warning System for Flooded Roads
Flooding is the most common natural disaster in the U.S.: 99% of U.S. counties have been affected by a flooding event, according to FEMA. Despite the dangers flooded roads pose, some motorists don't realize that less than 12 inches of water can sweep their vehicles away, and without a roadway warning, they might not think twice about driving through.
A High Water Warning System automatically detects when roads have dangerous water heights and subsequently alerts drivers, allowing you to keep your community safe without having to deploy law enforcement resources. These dynamic road signs can be right-sized to fit each community's needs, including an adjustable water level threshold for any water type, customized sensors, warning alerts and system layout options. In areas that are prone to flooding, a High Water Warning System can provide life-saving alerts to motorists, while saving time and resources in the event of adverse weather conditions.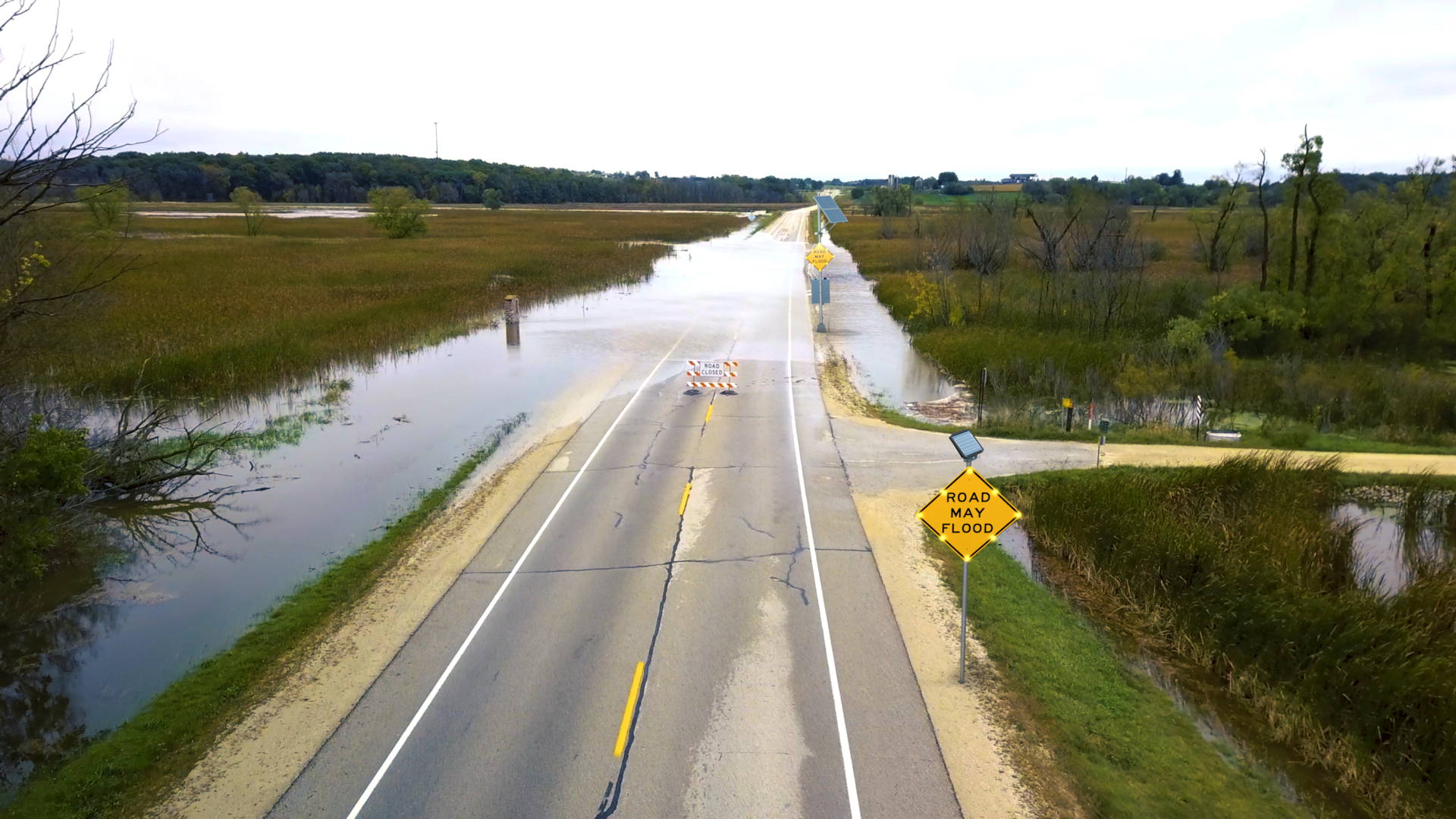 LegendViz™ Traffic Signs for Rain and Fog
Reduced visibility on the road can pose a great risk to motorists, with over 38,700 crashes occurring in fog each year, as reported by the Federal Highway Administration. When driving in fog and other low-light conditions, it can be difficult for drivers to see traffic signs from an appropriate distance.
Signs with LED-illuminated legends like LegendViz™ Traffic Signs are designed to increase visibility in low-light conditions by as much as 100%. As nearly half of traffic fatalities happen at night (National Safety Council), these internally LED-enhanced signs automatically brighten at night to catch the attention of drivers without the need of headlight retroreflectivity. To further increase visibility and safety, especially in high traffic or rural areas, traffic signs can be customized to suit your community's needs with various activation options and additions like flashing perimeter LEDs, which further increases driver awareness up to two miles ahead of the a stop sign.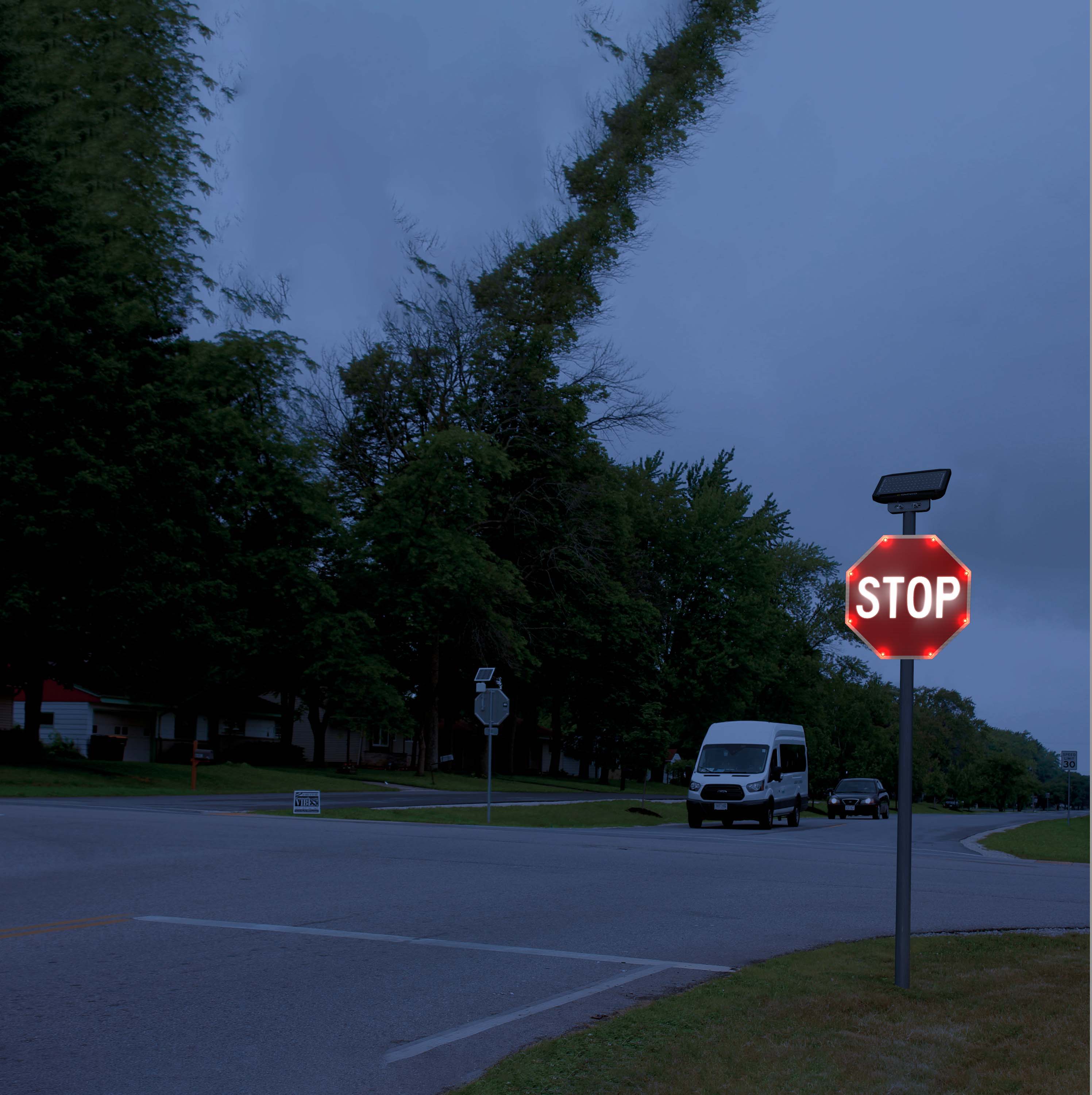 BlinkLink® for All Weather Disasters
For transportation officials who manage rural areas, driving 30+ minutes to check on a system or an alert can be time consuming. When this happens in the middle of a blizzard or other adverse driving conditions, it can be downright dangerous. Your safety is important, and in the event of a flood or storm, it's more convenient to check an alert from your phone or computer without braving the elements.
Cloud-management systems like BlinkLink® allow users to remotely monitor, manage and schedule their Intelligent Warning Systems, as well as gather data and set alerts from their office or phone. The software is compatible with Intelligent Warning Systems such as High Water Warning Systems and Icy Road Warning Systems. Most importantly, the software allows for transportation professionals to efficiently identify emergencies and act quickly to alert motorists and ensure roads are safe for travel.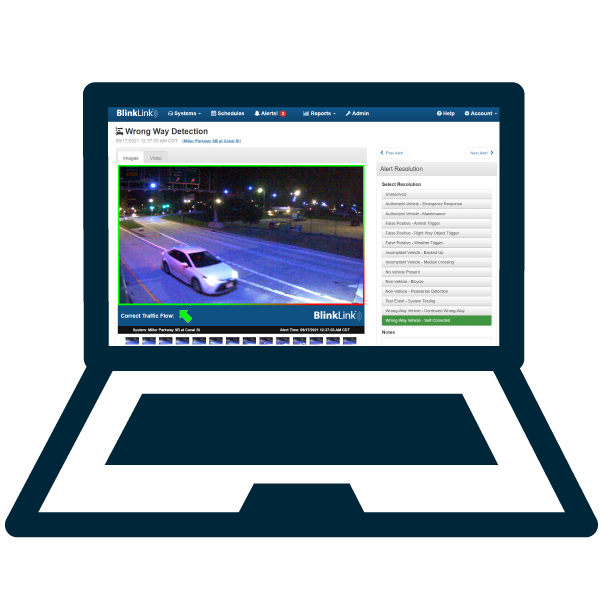 To learn more about traffic solutions for inclement weather and get a quote, reach out here.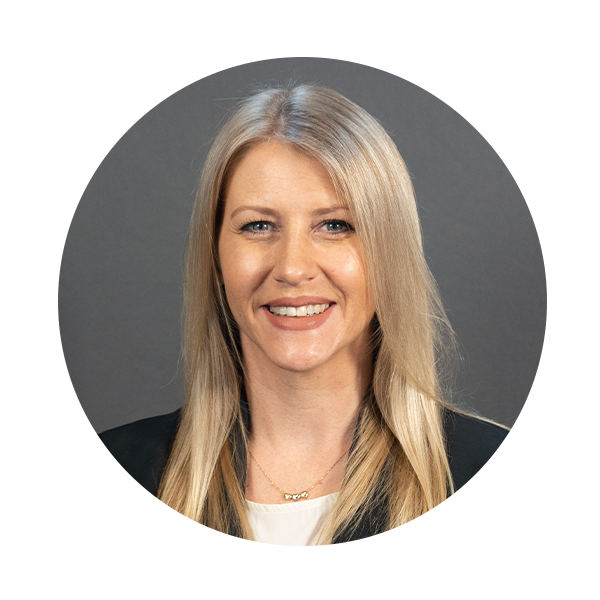 Roxann Hoeschele
TAPCO | Intelligent Warning System Specialist
An industry expert in traffic safety solutions, Roxann has experience in enhanced warning systems to prevent roadway departures, collisions and high water incidents. She specializes in many of TAPCO's Intelligent Warning Systems, including High Water Warning Systems, Dynamic Curve Warning Systems, Overheight Vehicle Detection Systems and TAPCO's newest LegendViz® product line.
Roxann works as the technical liaison between TAPCO's engineering team and their clients to customize traffic safety systems to each project's specific needs, ultimately focusing on customer success and safety.