TAPCO launches 13-watt, self-contained solar cabinet at ATSSA Annual Meeting
A lightweight, easily installed option for operating intelligent traffic warning systems
Brown Deer, WI - February 5, 2019 - Traffic and Parking Control Co., Inc. (TAPCO), manufacturer, distributor and service provider of traffic and parking control products, is excited to announce the launch of its 13-watt, self-contained solar cabinet for powering a range of traffic-calming devices. This innovative product will be introduced at the 2019 ATSSA Annual Meeting in Tampa, Florida from Sunday, February 10 through Tuesday, February 12. The unit weighs one-third as much as traditional cabinets, making it easy for one person to install. Its compact size and textured black finish also allow this solar cabinet to blend inconspicuously with its environment.
Traditional cabinets with batteries can weigh more than 30 pounds. TAPCO eliminated two-thirds of that weight by using nickel-metal hydride batteries, rather than lead-acid batteries. Further weight reduction was achieved by employing a durable polycarbonate housing instead of aluminum.
This innovative use of materials, technology and components also translates to cost savings. With this budget-friendly option using half the labor of more complex setups, communities can get more for their project dollars and increased traffic safety at more locations.
Despite its small size and weight, the 13-watt cabinet provides a robust menu of features:
Multiple possible battery configurations, to increase autonomy up to 30 days
Operability with three different kinds of traffic-calming devices:

BlinkerBeacon™
RRFB-XL2™
BlinkerSign®

Support of both active and passive activation methods
"One pain point for public works technicians is the weight and size of current solar cabinets," said Jon Zick, Director of Engineering and Marketing at TAPCO. "Carrying a big, 30-pound metal box up a pole and attaching it is an awkward and even dangerous two-person job. In contrast, one person can easily take TAPCO's new lightweight, durable, self-contained cabinet up to the pole top and fasten it quickly using TAPCO's universal mounting bracket."
Programming the unit is also fast and easy using TAPCO's backlit, intuitive controller with joystick interface. This use of lightweight, compact components contained in one housing achieves a modern and aesthetically pleasing appearance. To view this innovation in person, please visit booth 144 at the Tampa Convention Center from February 10 through 12.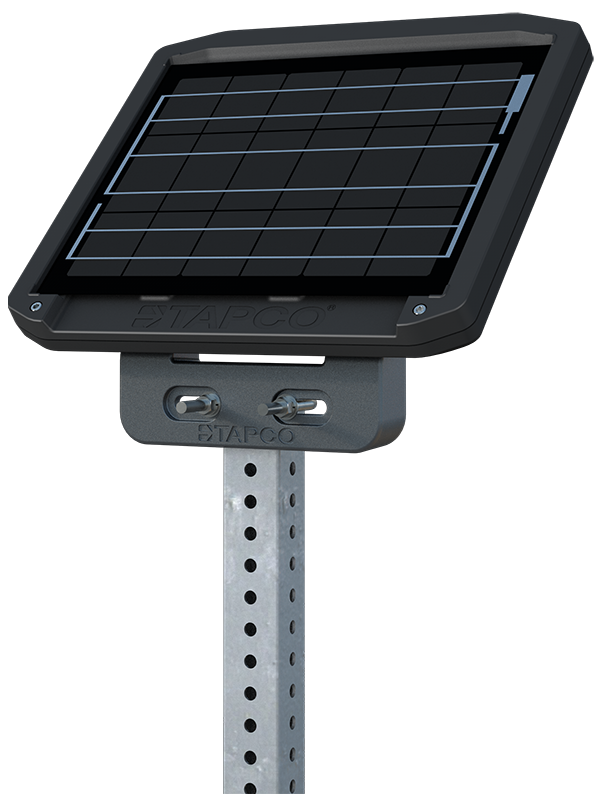 About TAPCO
As an industry-leading innovator, TAPCO manufactures and distributes a wide portfolio of traffic and parking safety solutions designed to increase safe travels for all. Since 1956, we have set the standard for delivering reliable, cutting-edge traffic safety enhancements. From our world-renowned line of LED-enhanced BlinkerSign® solutions to our pedestrian crossing products, safety is at the heart of all TAPCO innovations. Visit tapconet.com for more information or join the conversation on Twitter, LinkedIn and Facebook.
Contact Information
Steve Paulus
Marketing Communications Manager
262-649-4459
steve.paulus@tapconet.com
tapconet.com