With over 6,000 pedestrian fatalities each year in the U.S. alone, government agencies must be aware of every safety measure at their disposal. While technological advancements like V2X communication and connected vehicle interfaces receive much well-deserved attention, strategic roadway design that prioritizes the safety of vulnerable road users should not be overlooked.
One such design-focused safety measure includes staggered crosswalks, also called z-shaped crosswalks.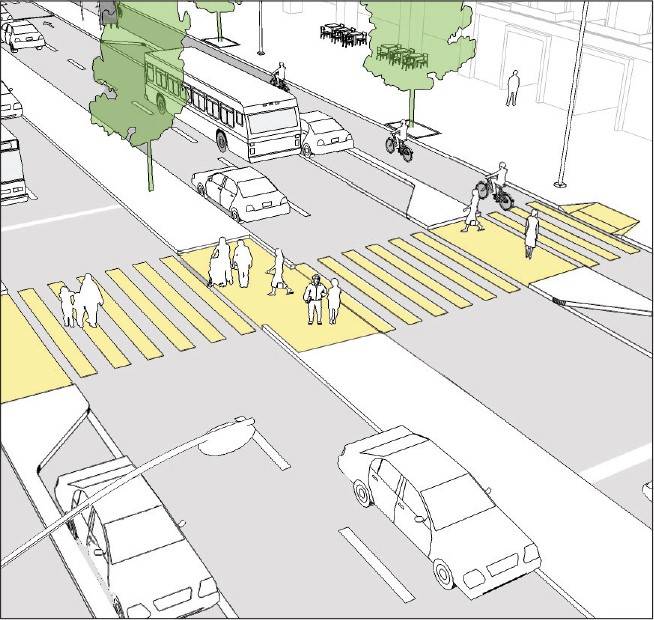 Image credit: Global Designing Cities Initiative
What is a Staggered Crosswalk?
A staggered crosswalk is a crosswalk on a road with four or more lanes that has a pedestrian refuge island dividing it into two halves that are offset from each other.
Pedestrians using a staggered crosswalk start by walking in the crosswalk across two or more lanes of traffic to reach the pedestrian refuge island. Then, they turn and walk down the island while facing oncoming traffic before walking across the remaining traffic lanes in the crosswalk.


When to Use a Staggered Crosswalk
This type of crosswalk is ideal for mid-block areas with low to medium pedestrian volumes and medium vehicular volumes, according to the Global Designing Cities Initiative. Stop bars should be set back about five to ten yards, and pedestrian refuge islands should be several feet wide.
These crosswalks may have accompanying staggered traffic signals so that only one direction of traffic is impeded by a pedestrian at a time; drivers on the other side of the road from a pedestrian do not need to stop.
In addition, staggered crosswalks are often paired with flashing LED-enhanced pedestrian crossing signs or rectangular rapid-flashing beacons (RRFBs), which can be activated via user actuation, infrared bollards or thermal detection.
For example, the town of Whitefish Bay, Wisconsin created a staggered crosswalk on a popular s-curve road near a park with lots of foot traffic. The crosswalk, pedestrian refuge island and solar-powered RRFBs from TAPCO utilized by the town have made crossing the roadway much safer and easier, especially in low light conditions.
These crosswalks do more than just facilitate pedestrian crossings though.
According to the National Association of City Transportation Officials (NACTO), "Staggered crosswalks can be designed to accommodate bicycles by providing sufficient space and width for bicyclists to comfortably maneuver across the offset crossings." This has already been applied at several locations in San Francisco.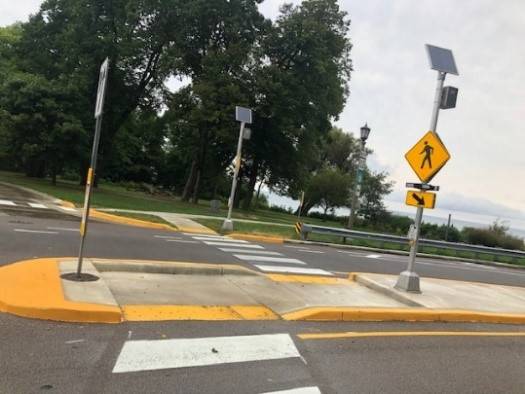 A staggered crosswalk with TAPCO solar-powered RRFBs in Whitefish Bay, WI
Advantages of Staggered Crosswalks
Staggered crosswalks have multiple built-in benefits, the most important of which is a major boost to safety.
When crossing multiple lanes, pedestrians may look carefully both ways beforehand, but by the time they near the end of the crosswalk, cars have appeared that were not there before. For pedestrians who are not vigilant and fully mobile with unimpaired sight, this can spell disaster.
Fortunately, staggered crosswalks enable pedestrians to only focus on one direction of traffic at a time and force them to always be facing oncoming traffic. The pedestrian refuge island required by staggered crosswalks also provides mid-crossing protection, shortening the time pedestrians are in traffic lanes and at their most vulnerable.
In addition, as mentioned above, staggered crosswalks with traffic signals eliminate the need for traffic flowing both directions to have a red light at the same time when there is a pedestrian in a crosswalk. Because only half of traffic is impeded by a pedestrian at one time with a staggered crosswalk, the other half of traffic can have a green light and continue moving, increasing efficiency.
Disadvantages of Staggered Crosswalks
There are, however, a couple reasons traffic engineers may hesitate to use staggered crosswalks.
First, pedestrians used to traditional crosswalks may ignore the "Z" shape and continue walking straight, spending the last half of their crossing in the roadway near – but not actually in – the crosswalk. This, of course, is a safety hazard for both drivers and pedestrians.
According to the Federal Highway Administration (FHWA), "In order to curtail shortcutting and force pedestrians to follow the intended path, some medians may also have attractive fencing to corral pedestrians in the correct direction."
In addition, staggered crosswalks force pedestrians to walk a bit farther from one end of the crossing to the other. Even though that extra time is spent walking in the protected space of a pedestrian refuge island, pedestrians are still near passing vehicles for slightly longer than they would be in a traditional crosswalk. Keeping the length of the island short can help address this, however.
Consider if a staggered crosswalk is the right safety measure for an area in your community and evaluate which LED-enhanced pedestrian crossing solution should be paired with it to maximize safety and, ultimately, save lives.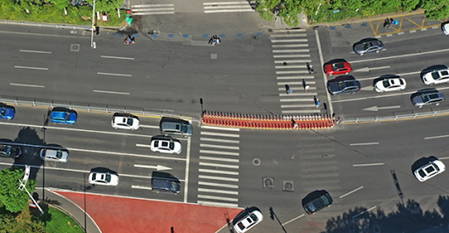 A staggered crosswalk in China. Photo credit: Hunan.gov.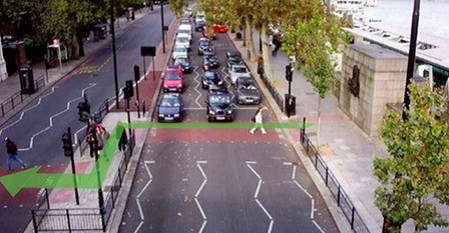 A staggered crosswalk in the UK. Photo credit: Google Street View.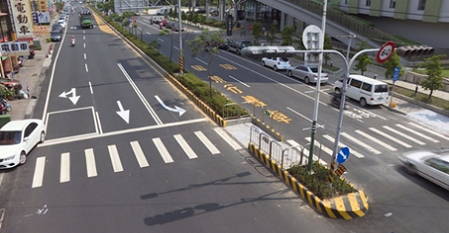 A staggered crosswalk in Taiwan. Photo credit: news.pts.org.