Rural roadways can be particularly dangerous to drive on, with 45 percent of traffic fatalities occurring on rural roads, according to a 2018 American Community Survey from the Census Bureau. This is due in part to wildlife, older drivers and more curves.

Many countermeasures to these incidents exist that can be placed on the road's surface, such as rumble strips, safety edges and thermoplastic paint.
There are also effective countermeasures to rural roadway departures that do not have to be placed on the road. Here are eight key off-road technologies and techniques that reduce rural roadway departures.
DYNAMIC CURVE WARNING SYSTEMS
Unquestionably, increasing driver awareness of an approaching change in road trajectory, reducing speeds and helping drivers navigate dangerous curves can have a tremendous impact on rural roadway safety.
The Crash Modifications Factor (CMF) Clearinghouse found that standard chevron signs reduce crashes by four to 25 percent on rural highway curves, depending on the crash type. However, it found even greater reductions when the signs included a flashing light.
The TAPCO Dynamic Curve Warning System features BlinkerChevrons, LED-enhanced signs strategically placed on the perimeter of the curve. They flash sequentially or simultaneously to guide drivers safely through the length of the curve.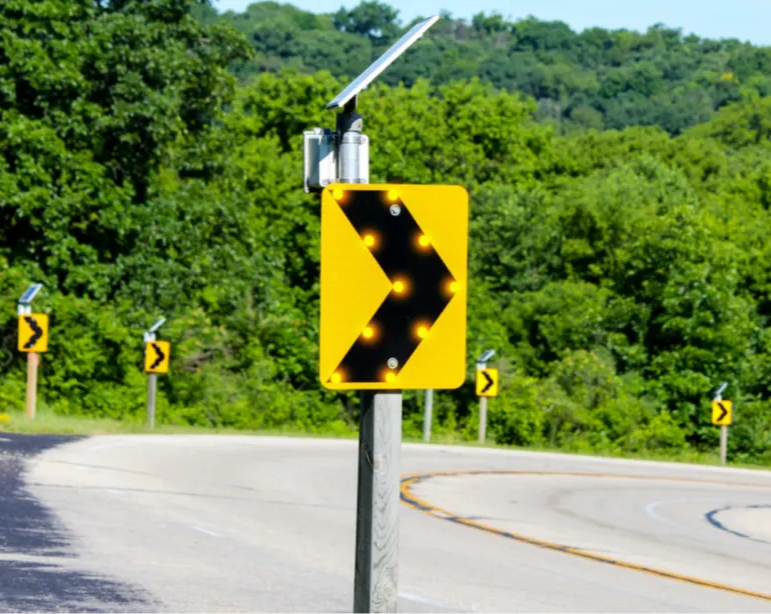 Each BlinkerChevron™ is MUTCD compliant and flashes in accordance with MUTCD section 2A.07. Plus, ruggedized versions are available for roadways that incur more environmental abuse, such as high winds, falling rocks or plowed snow.
An FHWA report from 2014 evaluated the TAPCO system and found that it had a "long-term and consistent effect on vehicle operating speeds."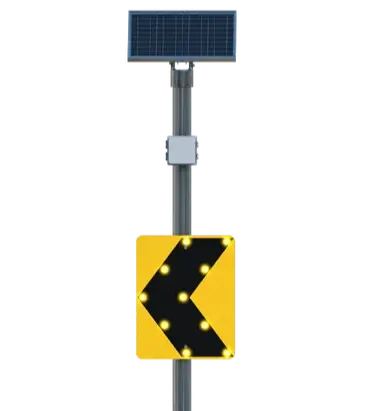 It can integrate with advance curve warning alerts and message boards, providing multi-lane, lane-specific communication to speeders, and also features multiple activation and detection options:
Speed activation via radar detection, with adjustable speed thresholds
Vehicle classification activation, which causes the LED-enhanced chevron signs to only flash for semitrucks or other desired vehicles
Smart weather detection using a Road Weather Information System (RWIS), meaning the LED-enhanced chevron signs only flash when precipitation is present and/or the speed threshold of the radar activation is reduced
INTERSECTION CONFLICT WARNING SYSTEMS
By providing real-time warnings to approaching drivers when cross traffic is present, intersection conflict warning systems can help reduce rural roadway departures at intersections. This includes stop sign blow-throughs that result in two or more vehicles swerving to avoid each other.
On the minor road, the system uses radar to detect vehicles approaching the intersection and a presence detector or inductive loop to detect the vehicle present at the stop line. On the major road, the system detects when a vehicle is approaching the intersection using radar or an inductive loop.
When vehicles are detected, the system activates LED-enhanced stop signs on the minor road and LED-enhanced intersection (W2-1) signs on the major road. These command drivers' attention in all light and weather conditions, providing a safer environment for intersection crossings.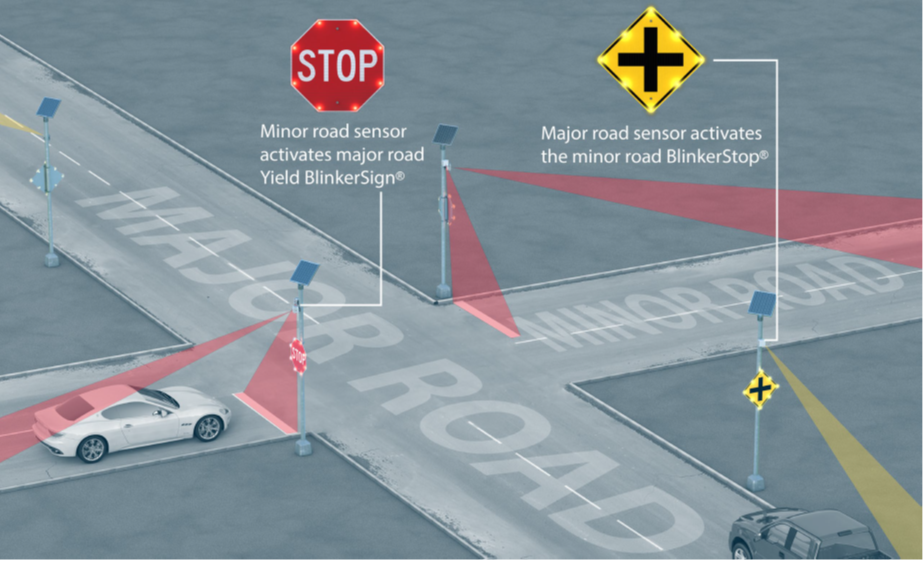 When vehicles are detected, the system activates LED-enhanced stop signs on the minor road and LED-enhanced intersection (W2-1) signs on the major road. These command drivers' attention in all light and weather conditions, providing a safer environment for intersection crossings.
The University of Minnesota's Center for Transportation Studies found intersection conflict warning systems to increase safety overall on rural roadways, with the Minnesota Department of Transportation citing a 54 percent reduction in collisions. In addition, the FHWA found these systems to decrease collisions 27 percent at two-lane/two-lane intersections and 17 percent at two-lane/four-lane intersections.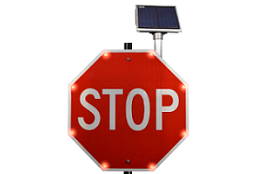 Their effectiveness may depend on how well they are adapted to each unique location, which is why leveraging a flexible system like the TAPCO Intersection Conflict Warning System is crucial.
In addition, the TAPCO system offers solar power capabilities ideal for rural applications and features passive presence detection, eliminating the maintenance associated with intrusive inductive loops.
REMOTE TRAFFIC DEVICE-MONITORING SOFTWARE
Many rural areas are far from hospitals, making roadway departures even more dangerous. With remote traffic device-monitoring via robust cloud software, departures can be identified faster to decrease response times.
In addition, the software facilitates data gathering by collecting and aggregating information on crash types and locations. This makes it easier to develop a systemic approach to rural roadway departure countermeasures, preventing collisions and saving lives.
BlinkLink®, powered by TAPCO, is traffic device-monitoring software that makes this possible. Securely connected through reliable cellular or fiber networks, BlinkLink® collects real-time data from Intelligent Warning Systems and sends out voice, email and SMS alert notifications to predetermined recipients.
The FHWA estimates that approximately 56 percent of fatal roadway departure crashes on curves are speed related.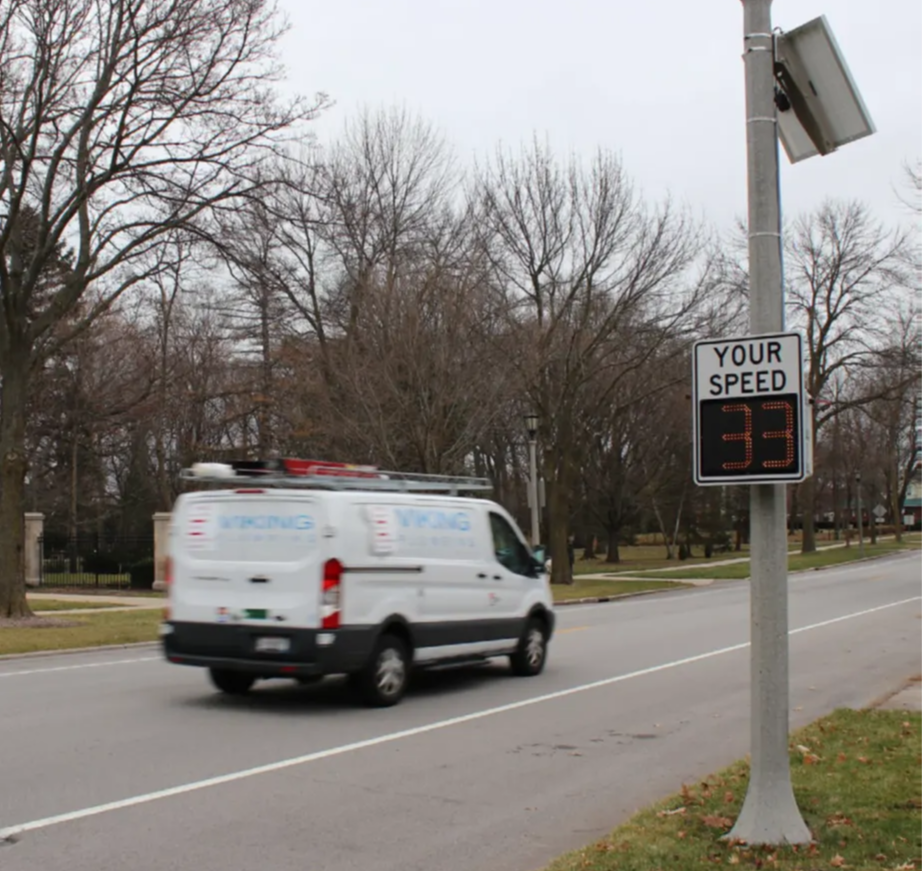 According to a 2015 report, "Researchers found that there was a 20 percent better chance for vehicles that were traveling at or below the speed limit to successfully navigate the curve than for vehicles that were traveling over the speed limit."
Particularly in rural settings where speed enforcement can be difficult, radar feedback signs can help. Sometimes called driver feedback signs or radar speed signs, they are designed to increase drivers' speed awareness.
Combine them with attention-grabbing, LED-enhanced warning alerts to create an MUTCD-compliant system like the TAPCO BlinkerRadar™ Driver Feedback System.
When road conditions are hazardous, dynamic message signs (DMS) can provide an additional layer of safety.
For example, when the roadway speed limit varies, such as when a work zone is in place, DMS can be used as variable speed limit signs, alerting drivers to adjust their speed to the new speed limit.
When the DMS includes weather-sensing technology, it can also warn drivers to increase caution. The roadside cabinet simply takes input from a road weather information system (RWIS). Then, it either displays information about the hazardous weather condition directly on the DMS or sends the information to a traffic management center (TMC) for verification.
Alerting drivers of changing road conditions via a DMS makes those conditions harder to ignore and enables drivers to make better decisions about their own safety.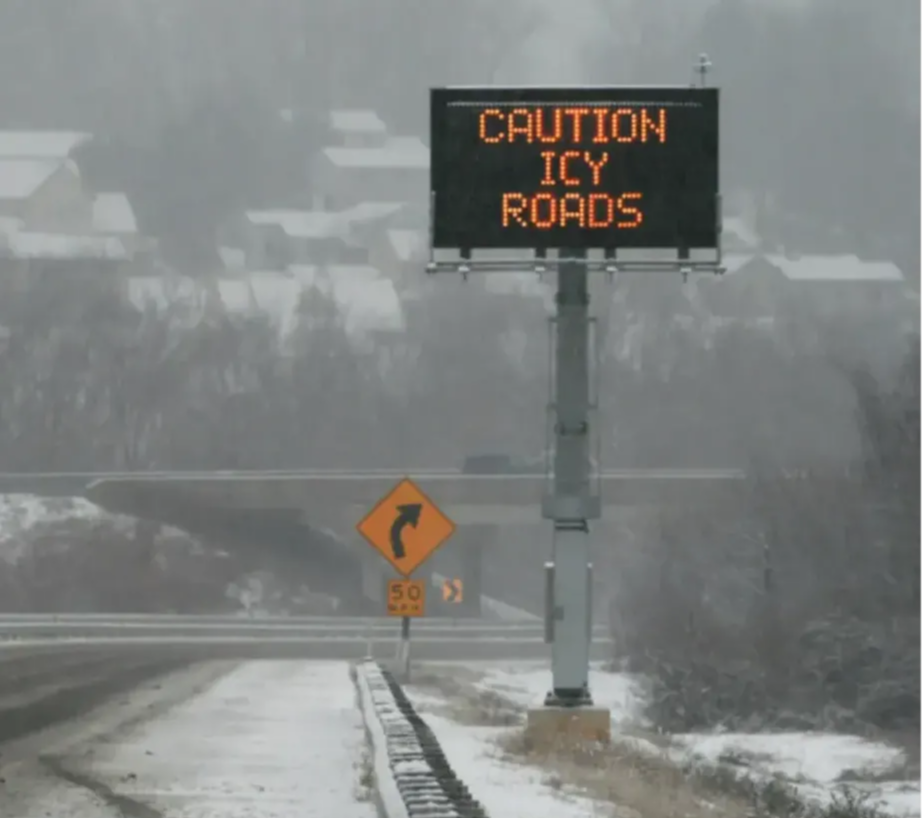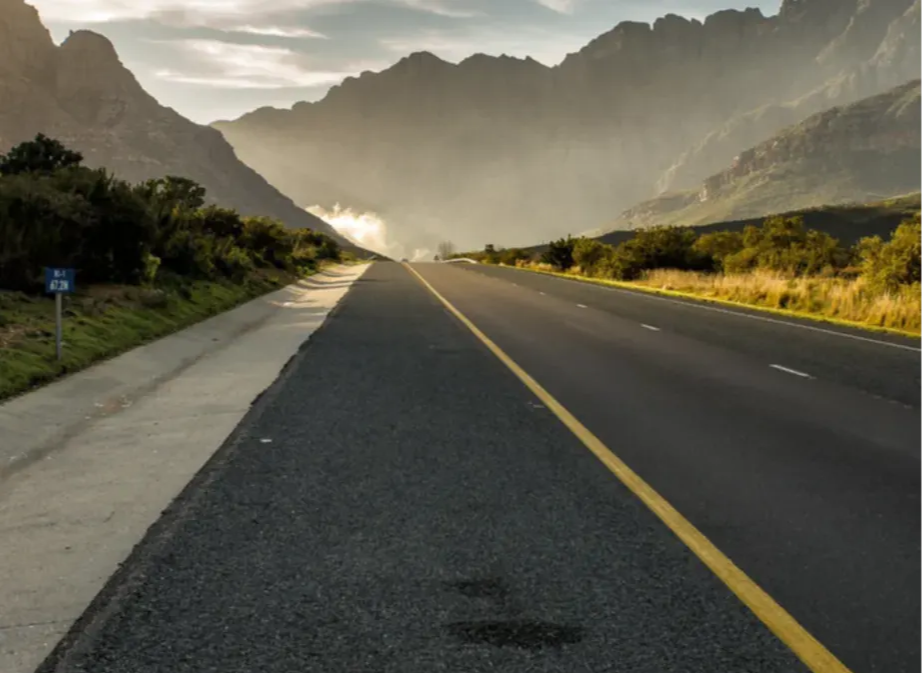 A clear zone is a relatively flat and traversable area beside a roadway free of obstructions like trees and shrubbery. It provides an area for drivers to safely stop on the roadside or regain control of their vehicle after it has left the roadway, making rural roadway departures much safer.
The recommended width of the clear zone depends on three main factors: traffic volume, roadway speed and roadside slopes.
BREAKAWAY POLES AND POSTS
In some rural areas, drivers may strike fixed objects that simply cannot be removed, such as utility poles and traffic signs. Fortunately, there are breakaway versions of poles and sign posts, which are designed to detach at the base and fly over the vehicle that strikes them, reducing harm to drivers and passengers.
The breakaway poles and sign posts can be replaced, but people cannot.

Another way to help drivers recover after a roadway run-off and safely return to the road is with a traversable slope. There are two types:
A recoverable slope is a roadside slope flatter than 1V:4H, which allows drivers who run off the road to retain or regain control of their vehicle by slowing or stopping.
On the other hand, a non-recoverable slope is a roadside slope between 1V:3H and 1V:4H. As long as there are no fixed objects on it, the slope is still traversable. However, errant vehicles on non-recoverable slopes will continue to the bottom.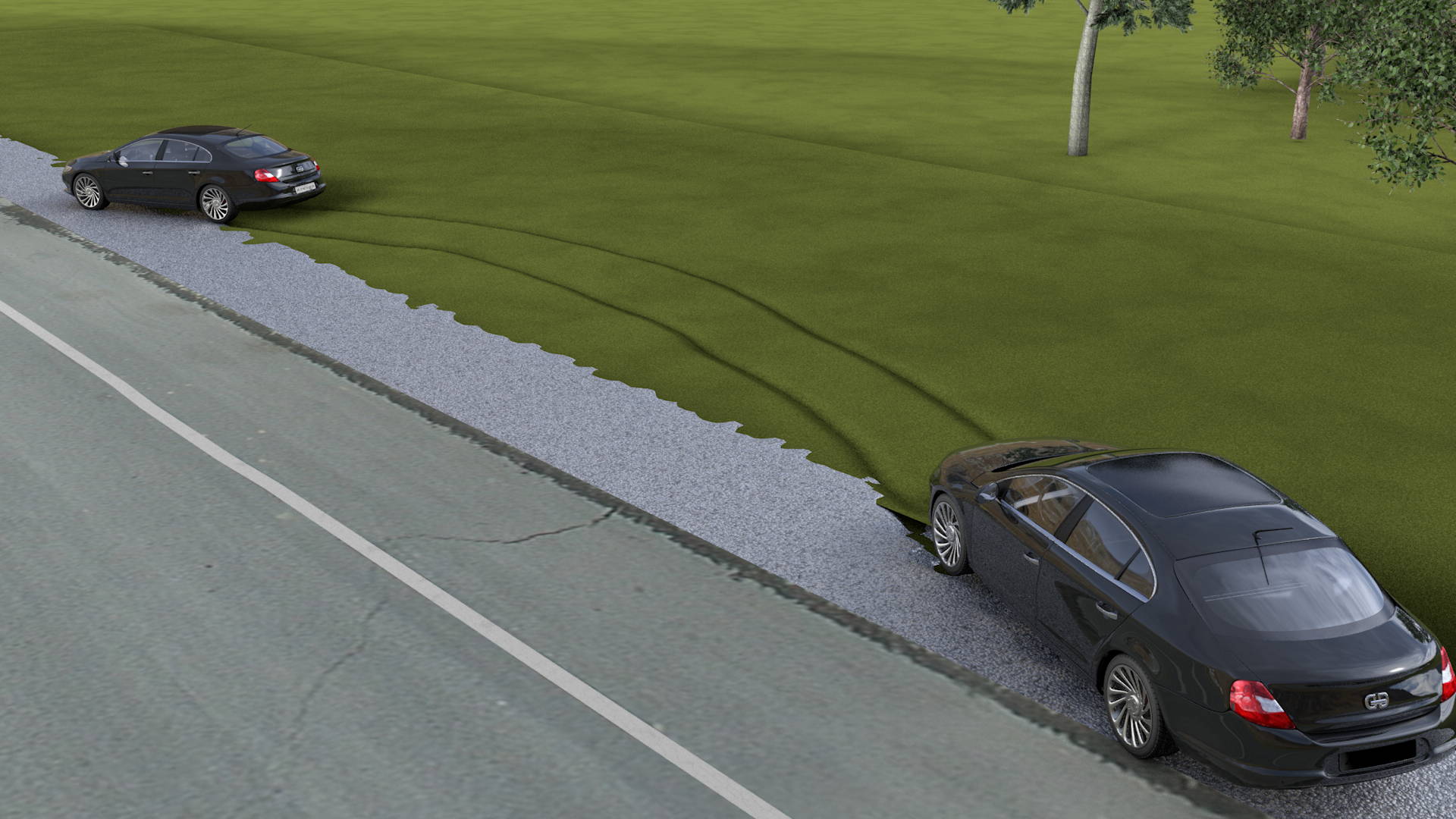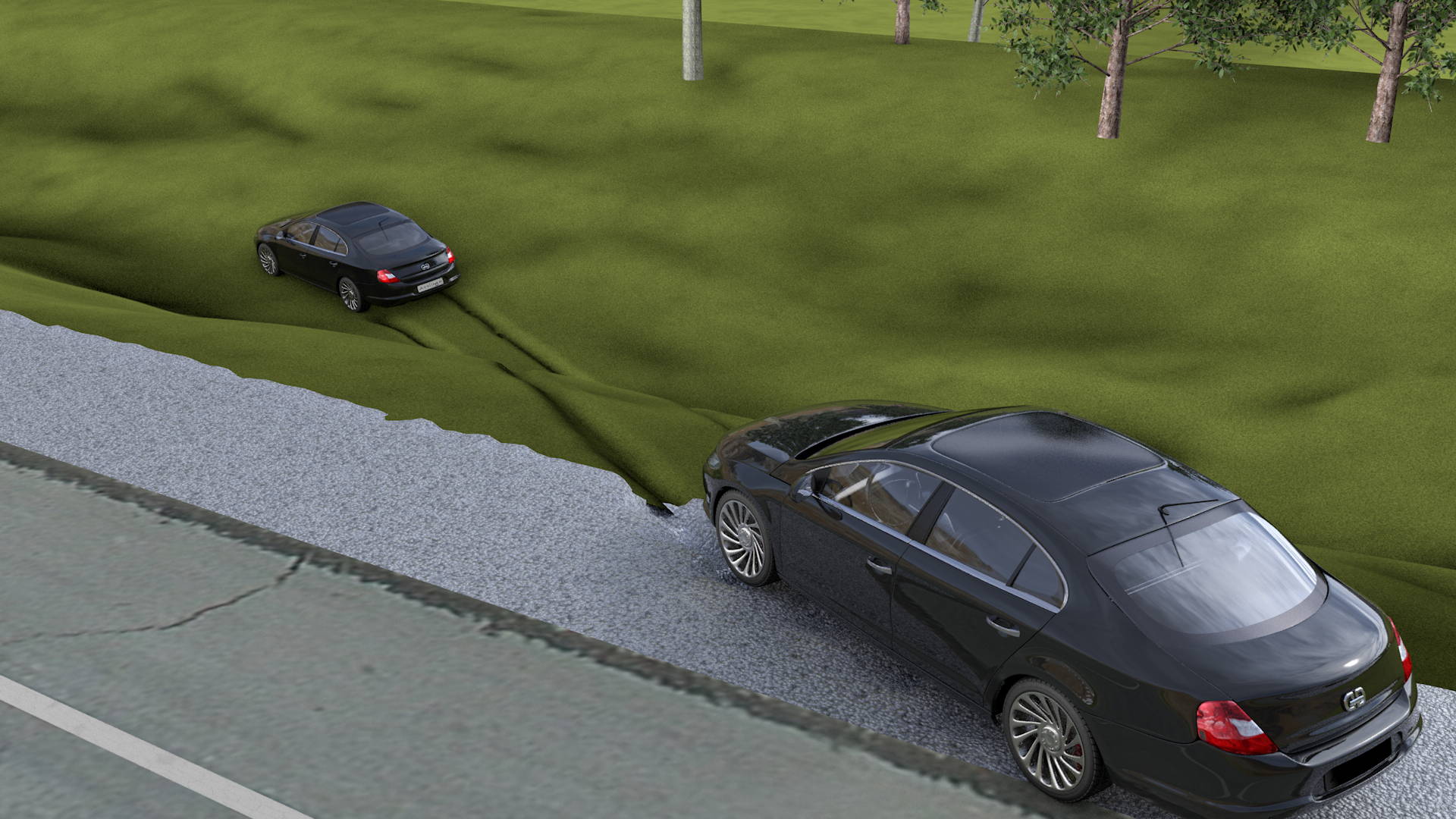 Proven off-road countermeasures such as these can aid drivers in safely navigating rural roadways. With solutions as simple as breakaway poles or technology as fast and accurate as remote traffic device-monitoring software, roadway safety is greatly improved.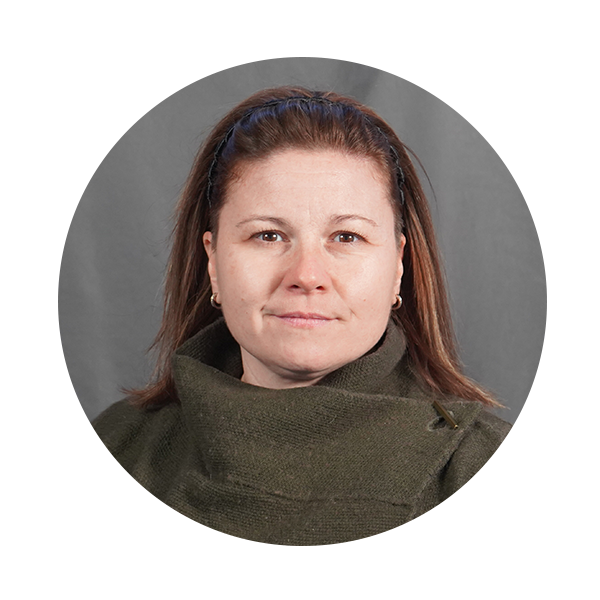 Kate Bert
TAPCO | Product Manager
Kate is a wrong-way alert and overheight warning systems expert dedicated to providing customers with innovative products, knowledge and guidance.
She has extensive experience in engineering, operations and product management and is passionate about collaborating with the team to develop lifesaving solutions to ensure safe travel for all users.