"If you don't think you have a wrong-way problem, it's because you don't have the detection equipment counting it."
Those are the words of Greg Mack, Assistant Director of IT and Toll Systems for Central Texas Regional Mobility Authority (CTRMA), an independent government agency created to improve the transportation systems of two counties in central Texas.
When a new three-mile stretch of road called 45SW was completed in Austin last summer, CTRMA was tasked with maximizing its safety.
Rather than wait for disaster to strike, Greg and the rest of CTRMA chose to be proactive about safety on the new road by launching a wrong-way alert system and connected vehicle interface (CVI) pilot program.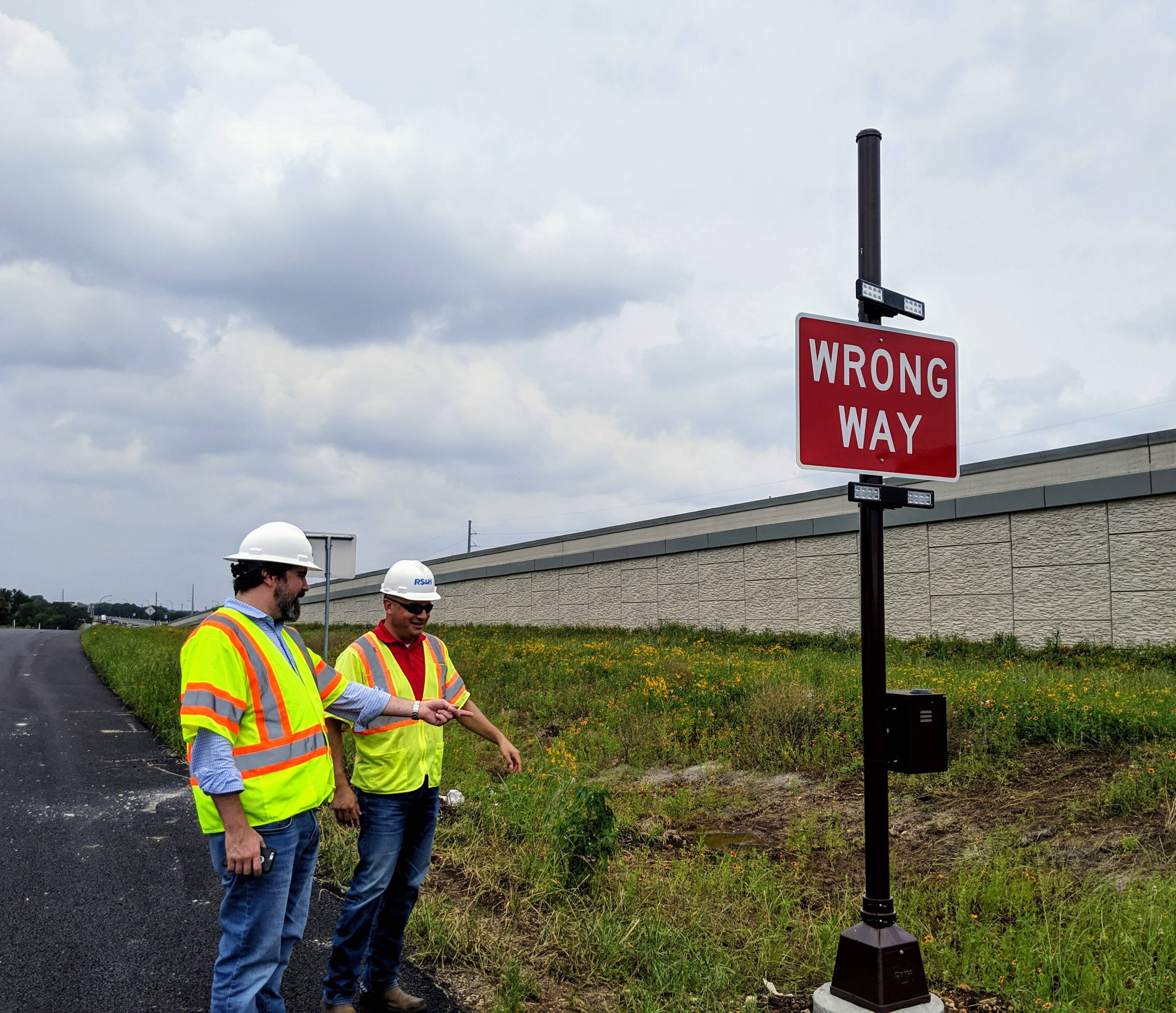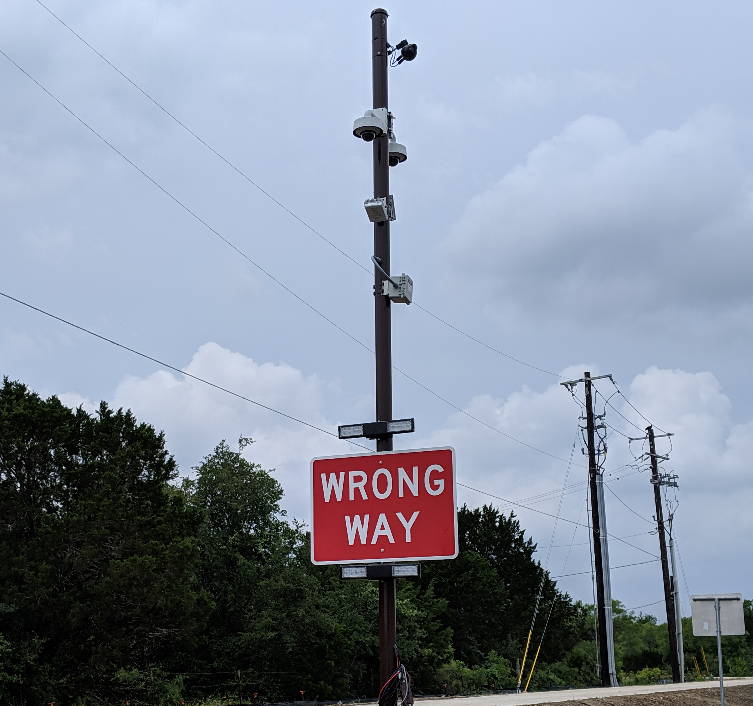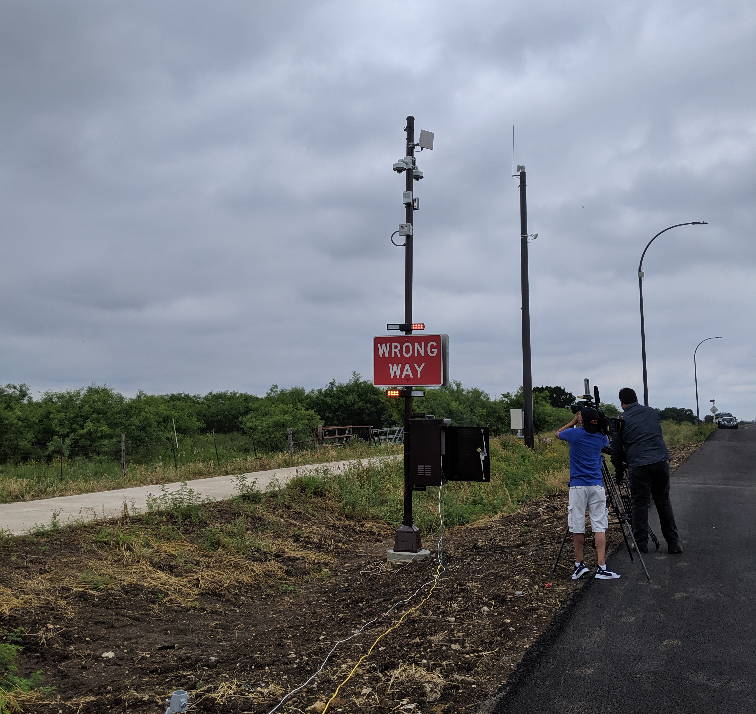 The pilot swiftly garnered the attention of the media and other agencies, everyone waiting to see what the impact would be.
With all eyes on them, CTRMA selected and installed the TAPCO Wrong-Way Alert System with thermal detection at four 45SW entry points, as well as TAPCO's CVI technology at one entry point. All solutions leverage BlinkLink®, TAPCO's traffic device-monitoring software.
Discover from Greg himself why CTRMA decided to be proactive, why they included thermal detection and CVI and what the results of the pilot were.
Q: Why did you decide to be proactive by installing wrong-way alert systems on a new road?
A: We attended conferences, listened to the industry and, of course, followed the devastating effects wrong-way accidents have had, so we wanted to get ahead of that. Wrong-way deaths are at over 350 a year. The accidents are usually very devastating in terms of their loss of life. Instead of waiting for an accident to spur us into action, we wanted to be a leader in our industry.
Q: Why did you select TAPCO for this project?
A: We get approached by a lot of vendors. We followed other deployments throughout the United States with different wrong-way providers, and what we really wanted to do was reduce the false alerts notifying law enforcement to go chase something that may not be there. That was really a driving aspect to why we selected TAPCO. Having the confirming technology of radar and the FLIR [thermal imaging] was a combination we felt would reduce the false positives, and we have seen a very low number of them.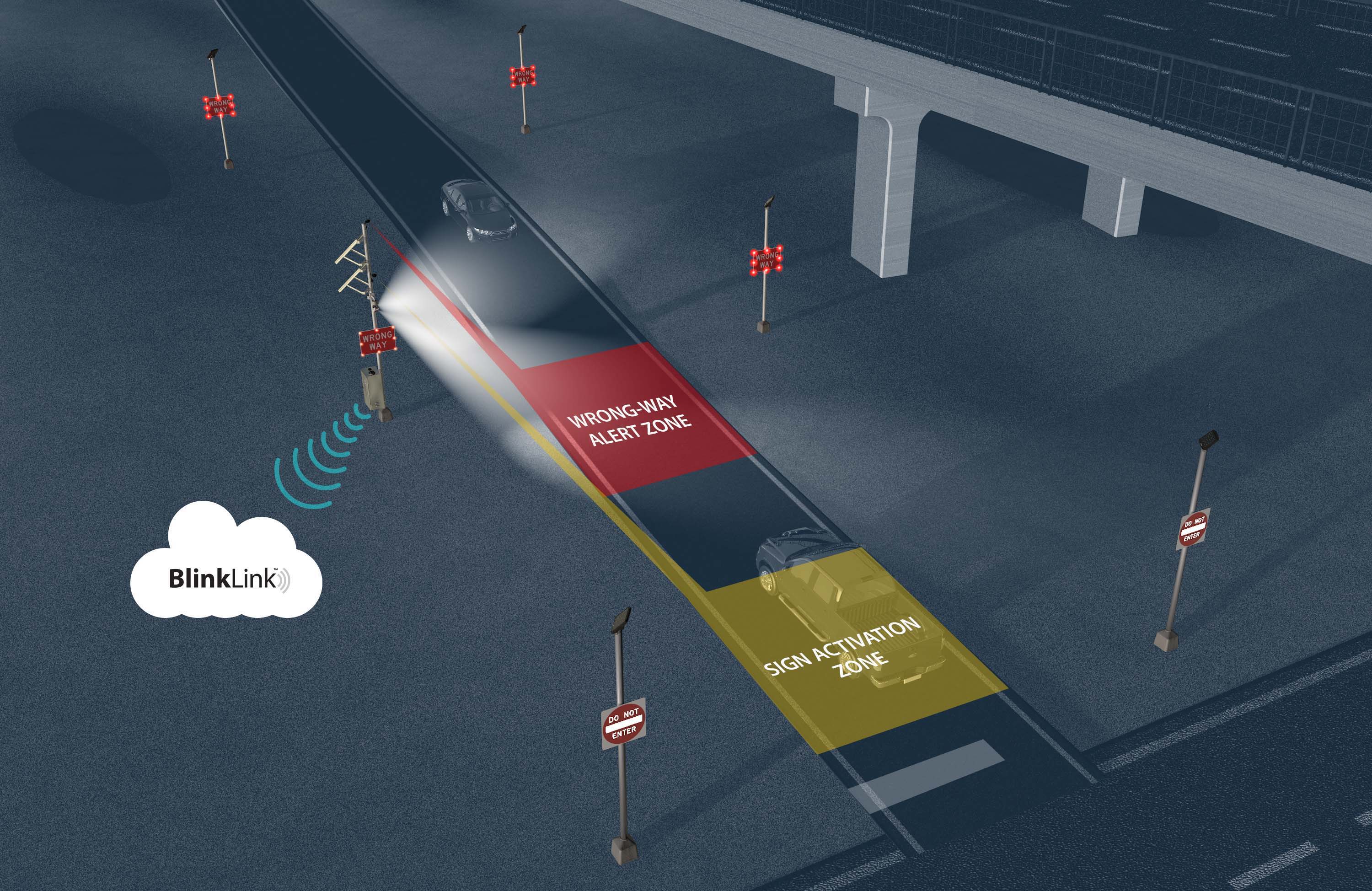 One of the other reasons we chose TAPCO was the BlinkLink® software. We saw it as a complete turnkey system with the roadside technology and integration, as well as the management and alert component. The software was excellent because of its design and functionality. It's very easy to use and extremely robust in terms of its offerings with the mapping and alerts and images. We really depend on that software to manage our wrong-way technology.
Q: Why did you choose AC power as the power method?
A: We still had the ground open because it was a new road, and we already had power and communication in close proximity. That lent itself well for us to make the investment to pull permanent power and [fiber] communication to the site knowing we can have cellular and solar backup if need be.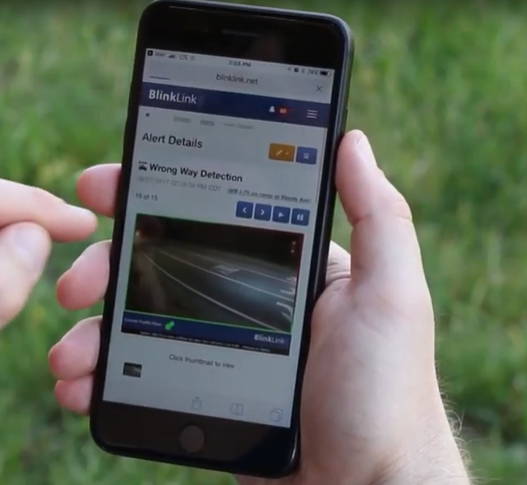 BlinkLink is TAPCO's traffic device-monitoring software built for smart city infrastructure.
Q: Why did you move forward with connected vehicle technology as well?
A: CTRMA is constantly looking at these technologies and trying to offer enhanced service to the traveling public. We feel connected vehicles are going to be the stopgap between now and all autonomous vehicles. You can read about this stuff and go to conferences and educate yourself, but sometimes you have to do an installation and actually see this technology demonstrated in the real world.
When there's a wrong-way driver, we try to get the message out as much as we can. So, with the TAPCO Wrong-Way Alert System, we will light up the roadway with red flashing beacons and automatically notify our traffic management center.
And, because connected vehicle technology is incorporated within the system, we can also communicate to vehicles within range — alerting the wrong-way driver and other drivers of the wrong-way travel.
Our plan going forward is to outfit that entire roadway with connected vehicle technology. By September 2020, that entire roadway will be covered with roadside units.
Q: What was the installation like? What are your thoughts on the installation process?
A: Overall, the installation went extremely well. TAPCO assembled the equipment in Wisconsin and shipped it down for our electrical contractor to install, then showed up to do the final integration piece. That was an easy handoff. We didn't get surprised with anything on the installation. The TAPCO team that was deployed was excellent to work with. We adjusted to site conditions and did add some additional equipment. I can't say enough about the installation and the professionalism that was delivered.
Q: What was the impact of the Wrong-Way Alert System?
A: We've confirmed 14 wrong-way vehicles and seen a 100% success rate of corrections, meaning they've gone the wrong way, passed the confirmation and alert zones and corrected themselves. We were surprised at the amount of alerts we've had. We didn't know we had a problem. We've detected a lot of vehicle backups too; 53% have been alerted by the flashing lights and backed up safely to correct their travel path.
Because of these two implementations – connected vehicle and wrong-way – CTRMA is now focused on deploying the technologies in more locations than just 45SW. We've seen enough positive results, so we're incorporating this into our technology roadmap for the future. It's a benefit for everyone.
Q: What feedback have you received about the Wrong-Way Alert System?
A: We've garnered a lot of media attention from this. We've had an initial press meeting to demonstrate the technology, and TAPCO was part of that demonstration. It informed the traveling public of what we were installing there and how it would benefit them.
Subsequently, we've seen follow-up questions and reports and interviews we've given to the press. Other agencies have asked about our experience with installing the system and what the hurdles and benefits were. Very quickly we became a go-to resource for others. A lot of agencies are following this technology and trying to incorporate it into their plans.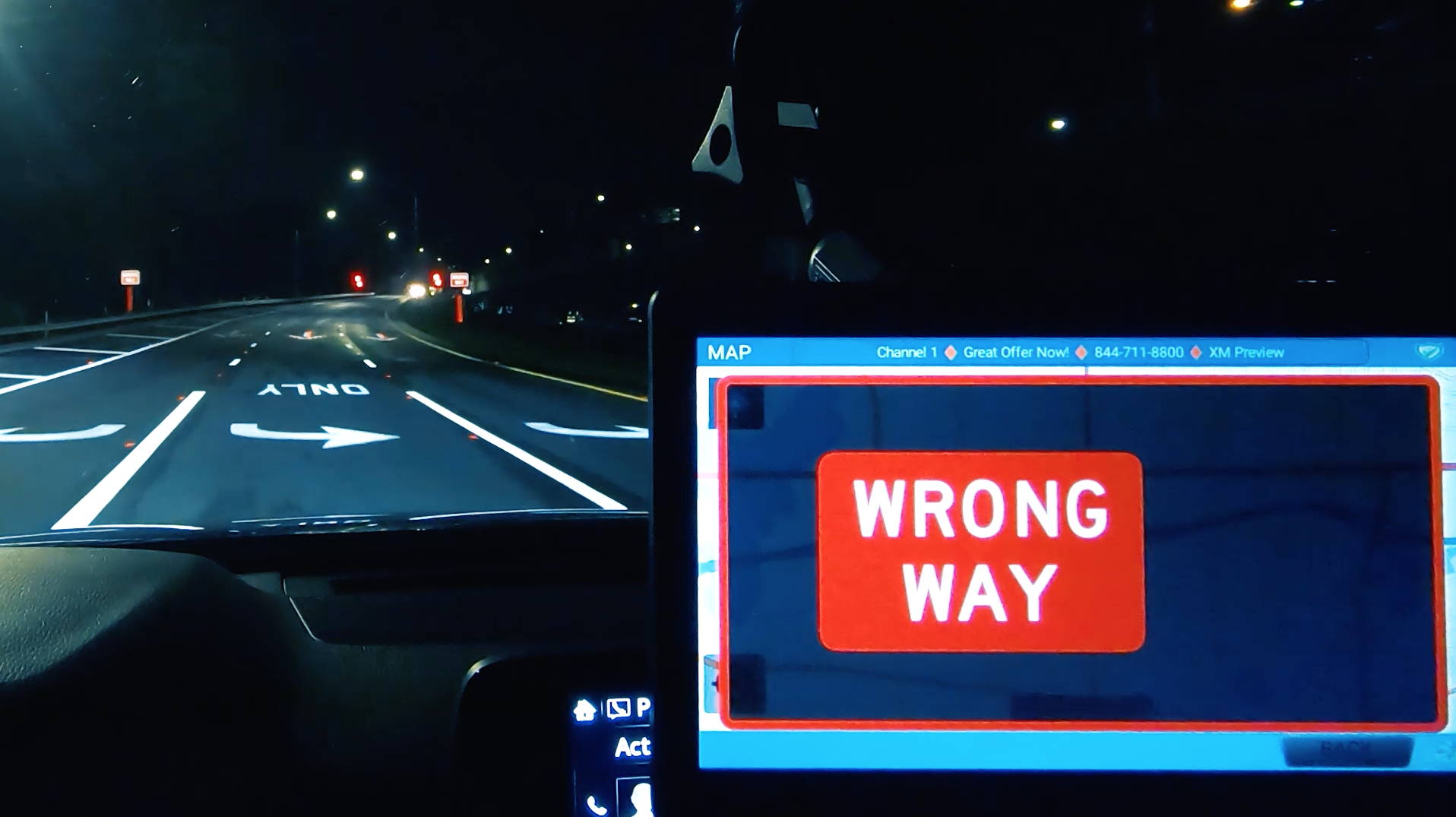 The majority of wrong-way drivers are impaired. Grab their attention with the right technology before disaster strikes.
Q: Would you recommend TAPCO to other organizations wanting to reduce wrong-way collisions?
A: Absolutely. We felt TAPCO's pricing was competitive, and the installation was excellent. The overall project delivery experience was excellent too. And the system's working; we've had it installed for almost nine months now, and we've seen very limited issues with the technology. We feel it's a very good addition to our technical offerings.
Q: What future plans or goals do you have for this road?
A: Our future plans are to integrate this technology more into our existing roadways, as well as roadways we currently have under design or construction. We've reached out to a research organization, Texas A&M's Transportation Institute, and they're currently studying our existing roadways to find some locations that would lend themselves well for wrong-way detection. The plan is to definitely incorporate TAPCO into that. We want to have a complete system with the same vendor, and we feel TAPCO is that vendor for us.
With wrong-way incidents on the rise and low-cost attempts to tackle them – such as upgrading static signs – proving to be ineffective, a comprehensive Wrong-Way Alert System may just be the answer. With CVI integration, activation options like thermal detection, various activation schedules, multiple power options and a variety of LED-enhanced warning alerts, there's a system to fit every roadway and budget.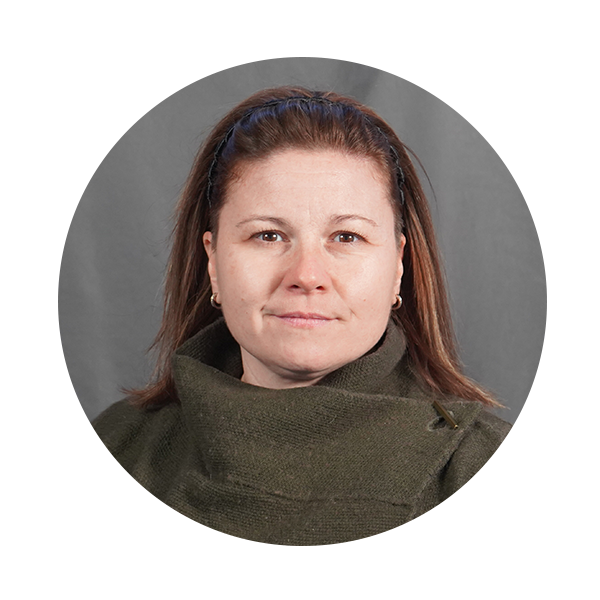 Kate Bert
TAPCO | Product Manager
Kate is a wrong-way alert and overheight warning systems expert dedicated to providing customers with innovative products, knowledge and guidance.
She has extensive experience in engineering, operations and product management and is passionate about collaborating with the team to develop lifesaving solutions to ensure safe travel for all users.