Each year, motor vehicle crashes claim 36,000 lives and injure more than two million people in the U.S., costing an estimated $800 billion, according to the National Highway Traffic Safety Administration (NHTSA). One day in the not-too-distant future, however, vehicles will seamlessly exchange relevant data – such as their location, speed and more – in real time.
Armed with this knowledge, drivers will avoid impending danger and make smarter decisions, and the human error causing all those fatal crashes will be drastically minimized. On top of that, congestion will be virtually eliminated, carbon emissions lowered, payment for parking and tolls automated and traveling more enjoyable.
As it becomes more commonplace, the emerging technology that will make all this possible is called vehicle-to-everything (V2X) — the billion-dollar buzzword in the transportation industry. As you may know, V2X is real-time wireless communication between vehicles (V2V) and between vehicles and infrastructure (V2I), and it can also include vehicle-to-pedestrian (V2P) and vehicle-to-network (V2N) communication.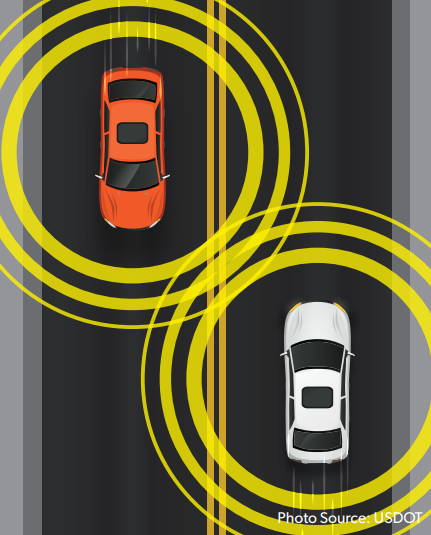 Crucially, for V2X to become a staple for current generations and the norm for future ones, this visionary communication requires a dedicated, secure spectrum to operate on. Otherwise, messages can't travel quickly and without interference.
To address that, the Federal Communications Commission (FCC) set aside 75 MHz of the 5.9 GHz band for Dedicated Short-Range Communication (DSRC) in 1999, yet the debate rages on about the best way to allocate that space for V2X. The U.S. Department of Transportation (USDOT) favors DSRC – even launching a connected vehicle pilot program using DSRC technology – while the FCC now favors cellular V2X (C-V2X) 5G LTE communication.
In fact, the FCC proposes allocating 45 MHz of the 5.9 GHz band for exclusive use by Wi-Fi and other unlicensed devices to support C-V2X, though that move isn't required to allow such technology in the band, as some mistakenly believe. According to an FCC news release, the proposal makes sense given how much of the band remains unused, the emergence of new technologies like C-V2X and the growing demand for unlicensed devices. Based on its research, however, the USDOT asserts that such devices raise serious concerns about system interference, including hacking.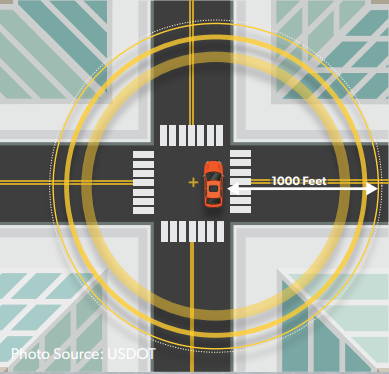 For a refresher on what exactly these two schools of thought – DSRC and C-V2X – could mean for your community and the future of transportation, I've broken it down for you:
Dedicated Short-Range Communication
What It Is: Already in mass-market use, DSRC is two-way wireless communication with a short-to-medium range of about 1,000 yards. It uses the underlying radio communication provided by IEEE 802.11p to enable basic safety messages to be exchanged between vehicles and infrastructure, such as roadside units (RSUs). No cellular network or other intermediary is required, which is critical in remote and other less-developed areas.
Growth and Support: The University of Michigan's Transportation Research Institute predicts DSRC will prevent roughly two million crashes by 2030.
That number is fueled by the continued growth of DSRC technology, thanks in part to a four-year-old NHTSA mandate requiring all new cars sold in 2023 to be equipped with vehicle-to-vehicle technology designed for DSRC. The first mass-market vehicle to meet this requirement was the '17 Cadillac CTS sedan, and many others have followed since.
Pros: Because it's short-range, direct communication, DSRC is considered more dependable and less prone to hacking and other interference. In addition, data transmission is high, latency is low and adverse weather has no impact.
Cons: Developing and maintaining mass-scale DSRC requires taxpayer dollars and other resources state and local governments may not have. Also, DSRC systems between countries are currently incompatible.
Cellular-V2X (C-V2X) 5G LTE Communication
What It Is: C-V2X is simply V2X wireless communication with two transmission modes, the first one enabling direct communication between vehicles, infrastructure and pedestrians (via their smartphones) using the 5.9 GHz band. The second enables vehicles to communicate with the cloud network, receiving alerts about accidents up ahead, available parking spots and more via developing 5G LTE cellular technology, which is as much as 100 times faster than 4G.
Growth and Support: In June 2019, market research firm Global QYResearch estimated the worldwide C-V2X market to hit $1.1 billion by 2026. Major automakers are taking note, with Volkswagen, Ford and BMW announcing plans to incorporate C-V2X into future cars. The technology also has support from the 5G Automotive Association (5GAA), a multi-industry group focused on end-to-end mobility solutions globally.
Pros: Enabling V2N and V2P communication opens up more doors for connectivity and, by extension, safety. Plus, 5G development and cellular network maintenance are happening anyway, so the burden does not fall to the government — or the taxpayers.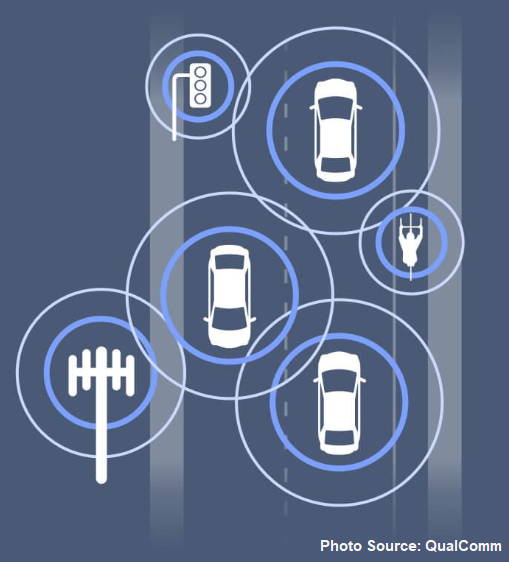 Cons: C-V2X has yet to be extensively tested and proven to the level DSRC has and, with a range of up to a mile, C-V2X is more vulnerable to potentially dangerous interference.
Looking Ahead
Whether you support DSRC or C-V2X – or a combination of the two, as some have suggested – V2X wireless communication is transforming transportation as we know it. Despite the uncertainty, it's clearer than ever that network-agnostic technology from a trusted provider like TAPCO is a worthy investment.
From connected vehicle interfaces (CVI) to advanced crosswalk systems leveraging thermal detection, TAPCO technology works with both DSRC and C-V2X to ensure road users are ready for whatever the future holds. With the number of V2X-equipped vehicles in the U.S. expected to reach 11 million by 2024, are you ready?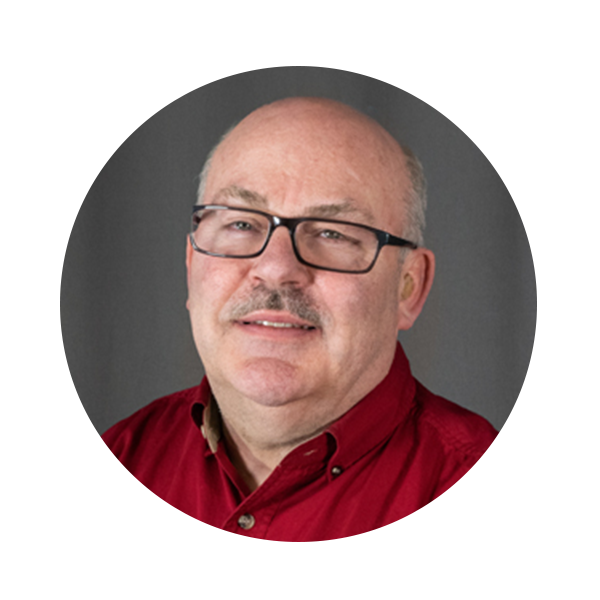 Brian Scharles, Sr.
TAPCO | Director of Technical Sales & Service
An industry veteran, Brian holds three transportation technology patents and has managed ITS and signal system designs, installation and maintenance for 25 years. He has experience integrating communication systems for the Wisconsin Department of Transportation fiber optic system starting in 1990 that are still in operation today.
Brian is a member of multiple industry organizations, including the Institute of Transportation Engineers (ITE), Intelligent Transportation Systems (ITS) WI and International Municipal Signal Association (IMSA), and has won many awards.