It's a question traffic safety professionals have been asking for years: "Should I invest in a retroreflectometer?"
A retroreflectometer is the go-to instrument municipalities and highway departments across the nation use to measure the reflectivity of signs and markings on roadways — critical to maintaining safe travels.
So unless you get regular visits from a visual nighttime inspector, you need to add a retroreflectometer to your arsenal. Here's why:
Maintain Federal Reflective Requirements

The Manual on Uniform Traffic Control Devices (MUTCD) requires the retroreflectiveness of road signs and markings to ensure proper visibility requirements are at or above the minimum levels in table 2A-3 of the MUTCD.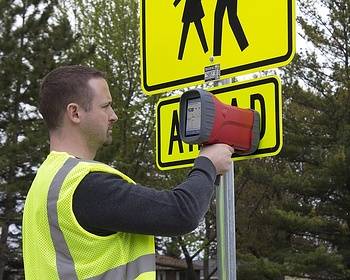 In fact, the MUTCD states all regulatory, warning and guide signs shall be retroreflective to show the same shape and similar color by both day and night. To ensure these minimum levels are adhered to, a retroreflectometer is the only way to remove subjectivity and insert objectivity to determine if all road signs and markings are in accordance with these federal requirements.
Reduce Long-Term Costs
Money spent on improving roadway safety is less than the cost caused by preventable accidents.
It's no secret financial resources are limited. So how do you make the most cost-effective decision while ensuring safe travels? A retroreflectometer makes it clear whether a sign needs to be replaced or not, eliminating the need to do blanket sign replacements.
Available resources should always go to low-performing signs and markings. Oftentimes, officials replace signs too early, leaving little to no budget remaining for signs that require immediate replacement.
Increase Nighttime Safety
Sign reflectiveness is never more important than after dark.
According to the Federal Highway Administration (FHWA), more than half of all traffic fatalities occur at night. Increased reflectivity on signs allows for added decision time for all drivers, especially those 65 years and older who need four times the amount of light to see at night compared to a 25-year-old.
So, if you're ready to invest in a retroreflectometer and improve safety on your roadways, request a free quote today!