TAPCO co-owner Andy Bergholz likes to say, "As TAPCO grows, we make communities safer." And while safe roads and highways are the circulatory system of a community, the lifeblood that keeps TAPCO going is its people. TAPCO has been family-owned for three generations, and, as a company, we're much more than the safety solutions we provide and the products we make: we're a family. In that spirit, we hope you'll enjoy this opportunity to get to know a few of the many important members of the TAPCO family.
Ibrahim
Ibrahim Kone is a purchasing agent with TAPCO. He is the link between us and our suppliers. He orders just about everything we need that isn't made here, from the wide variety of products we distribute to packaging materials to sheeting and ink for our sign shop. "I feel good when I bring in something we need," he says, "because we don't want a customer to go somewhere else."
A native of Burkina Faso (West Africa) and speaker of five languages, Ibrahim likes the fact that over his three plus years at TAPCO he has worked with suppliers in several different countries. When he's not at work, Ibrahim's time these days is filled with family activities. After a long separation, his wife and 15-month-old daughter, Amira, were able to join him in the U.S. a few weeks ago. When the Wisconsin weather cooperates, Ibrahim enjoys barbeques at the lakefront and playing soccer with friends.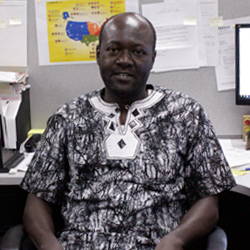 Be
Financial Analyst Be Khang also has a recent addition to her family: three-month-old son Callan. More than anything, she loves spending time with her baby boy who, according to his mom, "loooooves to talk." Besides being a new mother, Be is also an avid traveler, having visited Laos, Thailand, Japan, Canada and the Dominican Republic. She can't wait for her next adventure: a return to Thailand planned for 2020.
Be has been at TAPCO for five years, analyzing and reporting on financial data for TAPCO's executive team. She finds her job "challenging but fun" because of the variety of projects involved. "Whatever it is," she says of a new assignment, "it's always something new and keeps me on my toes."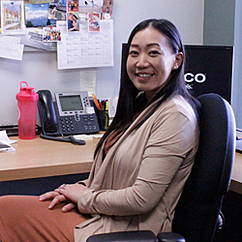 Rachel
Another TAPCO family member who wears many hats is Rachel Smith, a relative newcomer to TAPCO who joined the team in August. Rachel is the service support specialist in our parking division, working with our technicians on service requests and with the sales team to coordinate installations and service calls. Rachel says, "I have small tentacles in a variety of processes," and she likes the variety of people she works with. From vendors to customers to fellow employees, she appreciates their positivity. "Everybody wants to help out," she says.
Rachel has lived in five different states from coast to coast. She teaches violin lessons and performs in community orchestras. As a leader of her church's youth group, she organizes weekly community service projects for the youngsters. Rachel has five children and, somehow, she also finds time to pursue a degree in business management.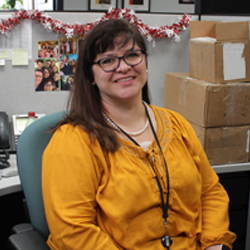 Ron
Ron Fletcher is another TAPCO team member devoted to living his faith. A panel wirer in our blinker division, Ron enjoys doing missionary work with his church, as well as mentoring young men and "helping them stay focused and positive." Ron is an avid bowler and supporter of Wisconsin sports teams, and he looks forward to seeing a Green Bay Packers game someday at Lambeau field.
While Ron likes working independently, he is also a very social person and enjoys making people laugh. A four-year TAPCO veteran, he likes sharing his knowledge with new employees and says, "I love the people I work with. They are my extended family for sure."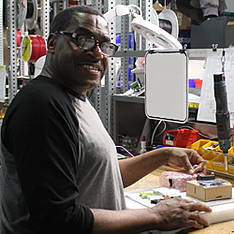 Nick
Neither Ron nor anyone else in TAPCO's production department could do their jobs without the right tools, raw materials and workstations. Nick Schultz works to make sure all those items get to the right people. Nick, going on two years with TAPCO, is a team leader in our distribution center and spends most of his time in the receiving department.
Besides the lifting required by his job duties, Nick also does a ton of it at the gym. He's a dedicated powerlifter who has competed in Strongman challenges and powerlifting meets. The proud father of an 11-year-old footballer and saxophonist, Nick also spends his free time at his son's games and concerts. He enjoys fishing and hunting, taking advantage of Wisconsin's many lakes and forests.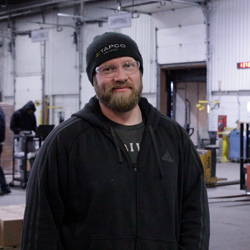 Justin
TAPCO takes pride in helping employees develop their careers, and Justin Jablonski, a TAPCO account manager, has a unique history with the company. After 13 years in production, Justin made the transition to sales at the start of 2018. His prior experience gives him expert knowledge of our products and a strong network of relationships throughout the company. This year, Justin says, he has developed "a newfound appreciation for our customers" and enjoys "helping them find safety solutions for their communities."
The father of two, Justin coaches his son's baseball and daughter's basketball teams. "I strongly value family," he says, "as it is one of the foundations of my life." Another of Justin's passions is music. He's been playing guitar and writing songs for over 15 years and has recorded three albums, with a fourth in the works. Justin and his wife Teri enjoy visiting new places, and they're currently planning a European adventure to celebrate their 40th birthdays.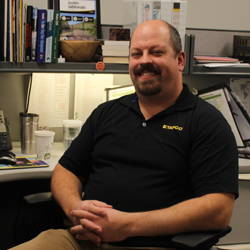 There you have it: a small glimpse into the lives of a few members of the TAPCO family. Just like you, we spend hundreds of hours a year on the road. At TAPCO, we're dedicated to saving lives on roadways across America and are proud to help people and their communities travel safely, wherever life takes them.