The expected delay of the next Manual on Uniform Traffic Control Devices (MUTCD) edition has motivated the National Committee on Uniform Traffic Control Devices (NCUTCD) to recommend changes to the Federal Highway Administration (FHWA) for Interim Approval.
Since the June 2008 meeting of the NCUTCD Council, many MUTCD-recommended changes have received the NCUTCD stamp of approval. However, official implementation of these approved changes remains in limbo pending the official release of the next MUTCD edition.

With the MUTCD production delay expected to drag out without a set timetable, the NCUTCD is pushing for the issuance of Interim Approvals of some of these previously approved changes.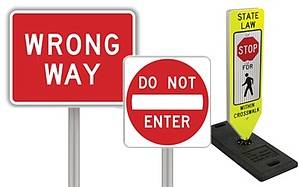 A long list of Interim Approval recommendations identified at the June NCUTCD Council meeting will be officially submitted to the FHWA in the near future.
Below is the list of previously approved NCUTCD changes for Interim Approval consideration:
RW Signs
GMI Signs
Markings
Temporary Traffic Control
Bicycle
Signals
Joint Signals/Bicycle